Description
   Contact Our Office for a Quote
Mini Fluidizing Disk Keeps Material Moving in Tight Curvatures
All the features of our 4-inch diameter Fluidizers (above) but in a compact two-inch diameter size. Ideal for tight curvature chambers down to 4-inch diameter (100 mm) to keep product from bridging, rat holing or hanging up in corners.
Fits in pipes. chutes, bins and hoppers giving system engineers and designers more pneumatic conveying options.
Models are available to work with high pressure/low volume compressed air or low pressure/high volume blower air. Ask for engineering assistance to apply this new Fluidizer for endless possibilities in material handling.
Available in standard blue or white silicone 350° F (170° C) or High-Temp orange 450°F (233° C) with same robust design. Will not tear or pick up moisture.
Enjoy all the same benefits of Solimar's superior aeration including uniform flow and discharge of dry bulk materials through aeration and hopper wall vibration. Can be combined with control systems for automated aeration during unloading (see below).
Note: Due to the impregnated ferrous oxide, the Metal Detectable Disk is only available in grey.
Why Solimar Silo Fluidizers work where others have failed:
Aeration
Loosens up the product allowing it to flow. Minimum back pressure puts air energy
where it is needed the most – into the product chamber.
Directional Air Flow
Air is forced along the chamber wall, freeing up product and keeping it moving.
Gentle Vibration
Keeps the product flowing, preventing compaction or plugging.
No Airline Plugging
Seals tightly against the chamber wall and prevents airline plugging.
Robust Design
Will not tear, pick up moisture & is unaffected by temperatures up to 450˚F/230˚C.
Material Compatible
Available in food grade, FDA approved blue or white silicone rubber, high temperature orange, EPDM black and metal detectable gray.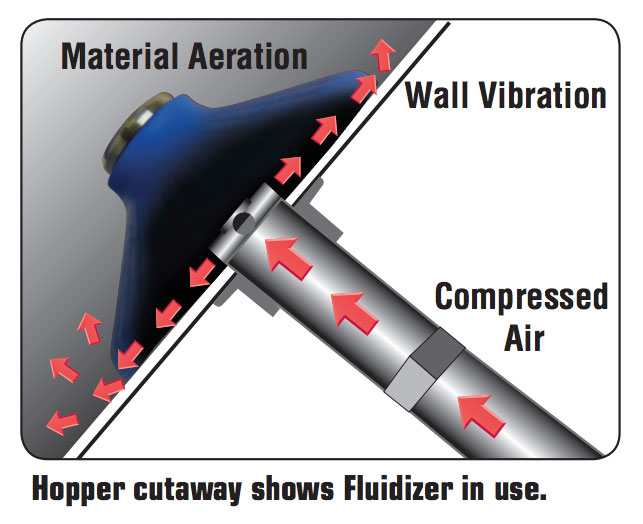 Solimar's Mini Fluidizing Disk – all the features of our standard disk to prevent bridging, rat holing and compacting in tight curvature situations where standard disks will not fit.
Perfect for:
Tight Curvature Chambers – 4″ (100 mm) diameter

Chutes, Pipes, Small Hoppers

Corner Hang-ups